Drop Cowboy
SMS Marketing and Ringless Voicemail
as Low as $0.012 a Message
VIEW PRICING
SMS Vs MMS
Advance your Marketing Strategy with SMS & MMS
If you are exploring different ways to market to a target audience, it's important to understand the specific terms. So, you need to be aware of the ins and outs of SMS vs MMS. Both are forms of text messaging on the surface, but if you dig a little deeper, you are going to discover that they are remarkably different.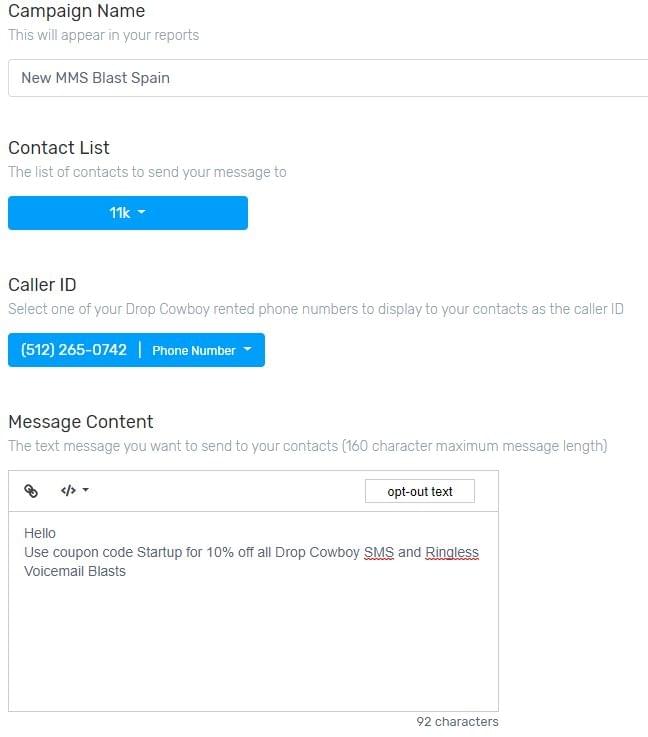 SMS Vs. MMS
These terms are widely used but very few people are actually fully aware of what they mean. Indeed, the typical individual will often talk about MMS vs SMS without fully understanding what exactly they are referring to. That's what we're going to explore today with the key info about these different possibilities and what you definitely need to be aware of.
SMS Explained
The SMS meaning is quite simple because it refers to Short Message Service. This is a particular protocol for communications that are designed for the purpose of receiving and sending text messages through cellular networks. The first message sent by doing this was in 1992. So, it's been around for quite some time and it's still useful to this day.
MMS Explained
So what is MMS? MMS refers to multimedia messaging so it's a little different while also being an extension of the original messaging system. It was developed to ensure that multimedia content could be sent over through text messaging. Whether you use MMS messaging will depend on what you want to send. Through MMS you will be able to transfer images and videos, which leads to more exciting possibilities for marketers and businesses.
So, now that we've established what they are, let's dive deeper into the question of SMS vs MMS.
SMS VS MMS
Now that we understand the MMS meaning, it's easier to dive into the question of MMS vs SMS. To understand this you first need to be aware of the space that each option provides. MMS messages will provide you with more space and technically an unlimited number of characters. In contrast, SMS is limited to just 160 characters. So, that's quite a difference.
In reality, the carriers will limit the level of space that you gain from an MMS message. However, when you explore SMS vs MMS it's still a lot of extra space. So, you can add more detail. For instance, you might get 1,600 characters depending on the service that you use.
We've already talked about another key aspect of SMS vs MMS. With MMS you will be able to send rich media. That includes everything from gifs to short videos or audio files and images. This is why it's referred to as multimedia. It means that you can send a range of different types of media. It's a key aspect to consider when exploring the MMS vs SMS debate.
If you choose to use SMS, you can refer users to different multimedia. However, you will only be able to do this by sending a link. You can't send the information directly.
So, basically, when you're choosing between MMS vs SMS it's all about whether or not you want to be able to embed an image or video. But that's not the only consideration that you need to make here.
SMS Vs MMS Cost
The next thing to consider when exploring the difference between MMS vs SMS is the cost. It's true to say that MMS messaging is always going to cost you more. Why is this? Well, it's quite simple. With MMS messaging, you will be sending more data. A carrier is always going to be charging you more for this privilege.
So, typically, an MMS will cost about three times what you would need to pay for an SMS message. As such, a top consideration for MMS vs SMS is always going to be your marketing budget.
That said, a great thing about these options is that you can determine exactly how much you need. When you look at carrier plans and consider SMS vs MMS, you'll find that you will be able to mix and match the number of messages that you get. So, you can opt for 500 SMS messages and 200 MMS messages. This means that you don't have to worry about not getting the amount you need.
In terms of how much we charge for MMS marketing, again, it's a little higher. But, you are getting more value because MMS campaigns have a stronger opt-in level. They are also far more likely to be shared and have a great level of potential to go viral. This means that they are going to be shared more often across social media and other sources online. That's exactly what you want when you're exploring how to max the potential of your marketing campaign.
As such, since pictures and videos are far more engaging, it can be worth paying the extra price to ensure that these ideas are incorporated into your campaign. This doesn't mean that SMS marketing isn't going to be worth it. It definitely can be, but you have to think about what you want to achieve with your marketing plan.
How Can We Help With The SMS VS MMS Debate?
You could still be confused about what the right option is going to be for your business. Well, we're pleased to say that we can help. We have worked to ensure that a variety of different businesses gained the marketing service that they needed. So, we're confident that we can provide you with the assistance and expertise that you need when making this decision.
MMS vs SMS is a big choice but it's one that can be significantly easier if you have the right experts by your side.
It's true to say that both can be effective and help you achieve your marketing goals. Regardless of what decision you make, we will be there every step of the way to provide the full level of support.
At Drop Cowboy, our system is also easy to utilize and access. As such, you won't need to worry about issues with not getting set up the right way. Indeed, we'll ensure that everything is up and running in minutes.
How Can You Decide On MMS VS SMS?
Deciding which option is right for you is going to depend largely on your marketing goals. It's possible that you want a more visual campaign. If that's the case, then MMS marketing is definitely going to be the right choice. This is also particularly beneficial if you are marketing a product or service that could be seen as visually appealing. You can also use MMS marketing for more advanced and detailed campaigns. This is useful when 160 characters just aren't going to cut it. It can also save you in the long run, rather than spreading a large promotion over multiple SMS messages.
In contrast, you could be keen to provide users with clear, concise information. If that's the case, then you should think about SMS messaging. This is great if you don't need, images, video or gifs to get your message across. It's perfect for a simple marketing campaign where the main objective is to keep your consumers up to date. It can still lead to great conversions and big results for your business.
Learn More Today?
Do you need more information on the debate between MMS vs SMS? If so, then make sure that you contact us today. We will make sure that you are able to speak to an expert and get the solution you need for your marketing campaign.
Millions of Voicemails Delivered Daily
We support sending ringless voicemail to more than 80 countries including
See for yourself why so many have embraced ringless voicemail!
There's no monthly fees, minimums, or commitment to get started.