Drop Cowboy
SMS Marketing and Ringless Voicemail
as Low as $0.012 a Message
VIEW PRICING

Dotloop
Ringless Voicemail & SMS Marketing Integration
Dotloop is a real estate transaction management software allowing agents create forms, sign and manage accounts all within one system with real time visibility.
Dotloop User?
Send direct to voicemail messaging to Dotloop contacts giving to your clients a personal experience. Sign up and send bulk messages today with Drop Cowboy!
How to integrate Dotloop with Drop Cowboy
Drop Cowboy integrates with Dotloop with a service called Zapier, Zapier allows us to push and pull data to and from Dotloop along with 1400 applications.
It's That Easy!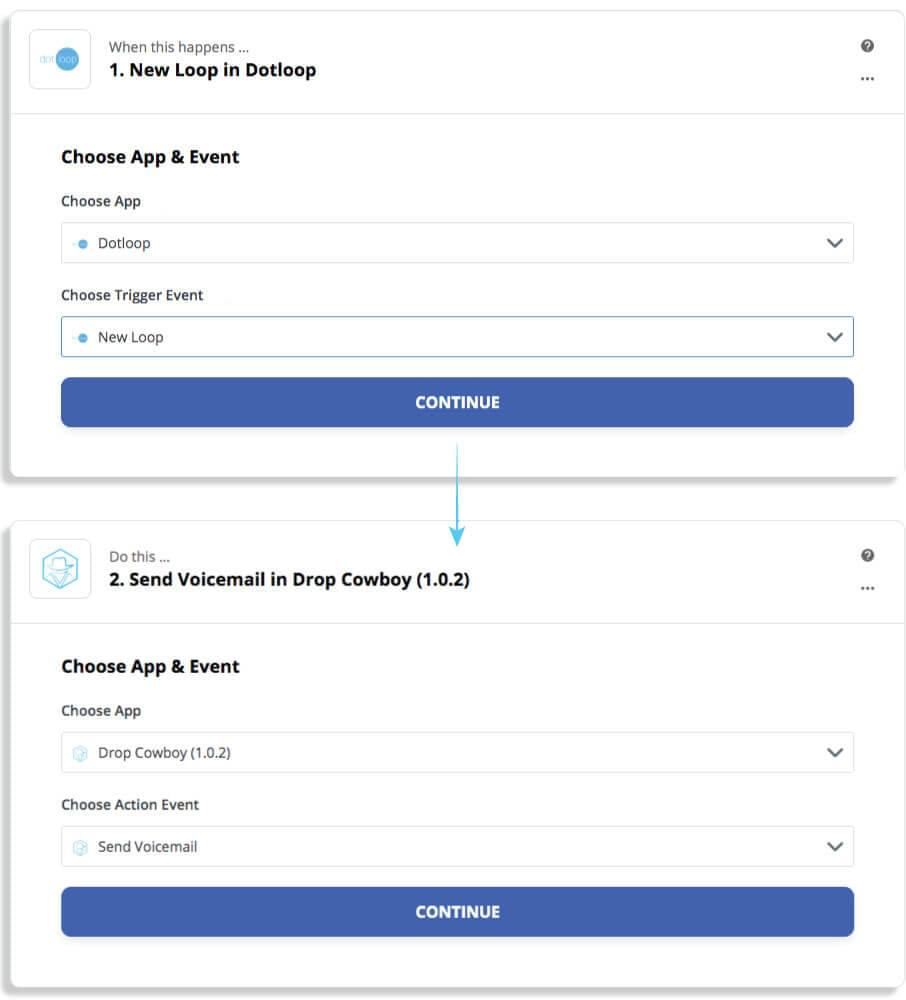 The world of real estate is the perfect place to make a living for those who are goal oriented, organized and passionate about helping people to find their dream homes. Nonetheless, even the best organized brokerage and the most disciplined agent can find themselves hitting walls and encountering frustrations on a regular basis. When it's good, it's really good. When it's bad… It can be a real nightmare.
What are the most commonly encountered frustrations for realtors and brokers? Your mileage will vary but we find that agents get frustrated when they have to dedicate too much of their time on tedious paperwork, affording them less time than they'd like to get out there and close deals. We also know how frustrating it can be when the tools of the trade inhibit or restrict your ability to collaborate with your team or get the job done on the road, resulting in having to squeeze trips to the office between viewings. Or when you have to go over your admin with a fine toothed comb, dotting the is and crossing the ts to ensure that you stay on the right side of compliance. Is it important? Absolutely! Can it also slow you down and sap your momentum? Unfortunately!
If you encounter these frustrations and more, we think you'll be excited about the fact that, as part of our commitment to making the lives of our real estate clients easier, we've begun integrating Dotloop. Engineered with the needs of realtors in mind, it's the perfect antidote to the most commonly encountered roadblocks, pitfalls and irritants in the real estate business. Before we get into specifics, however, it might be apt to ask...
What Is Dotloop?
This answer may be a little glib, but Dotloop is whatever you want it to be. Simply put, it's an end-to-end real estate transaction management system designed to streamline the operations of realtors and brokerages, allowing them to operate more efficiently and thus grow their earning potential.
It works by providing a platform that serves as a one stop shop for all operational aspects of real estate from file storage to form editing to securely storing and transmitting digital signatures and aiding compliance.
Here we'll take a close look at some of the reasons we're excited about integration with Dotloop and the ways in which it can help realtors get ahead in a hugely competitive business that moves at lightning fast speed.
Dotloop Means More Time Closing Deals… And Less Time Doing Everything Else
Whether you're a real estate agent or you manage a dedicated team of realtors, you're likely familiar with the frustration that can permeate the office when agents feel as though they're hobbled by paperwork and administrative details. Agents don't want to be chained to their desks, they want to be closing deals. The great thing about Dotloop is that it speeds up various administrative processes wherever your agents are; whether they're in the office or on the road.
Agents can use their Dotloop sign in to access and even autofill forms quickly and easily as well as sharing, editing and electronically signing documents in the office or on the go. The Dotloop app for iOS and Android has a robust range of functions that make it easy to generate transactions, and recall documents from virtually anywhere in seconds. That means your agents get to spend more time closing deals and less time doing everything else. And let's face it, when that happens everybody wins.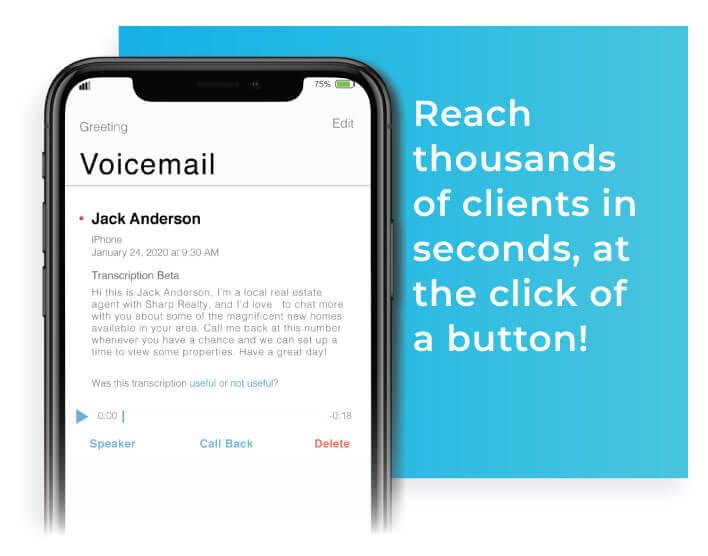 Facilitates Easy And Efficient Collaboration Between Teams
Realtors are highly focused, target driven individuals who constantly strive to be at the top of their game… But let's not forget that they're also team players. However, the inherent logistical difficulties of the real estate business can make collaboration less easy than you'd like.
With agents going out on the road at different times, conducting viewings at different times and sharing little face time in the office, it can be difficult for agents to co-ordinate, and challenging for management to track their progress in real time … Until now, at least.
Dotloop's transaction management platform is designed with collaboration in mind. When agents access their Dotloop sign in, it not only streamlines their administrative processes, it also streamines collaboration. By using a selection of Loop templates, agents can start new transactions that already contain all the documents they need, accessing the relevant people, and tasks with just a click of a mouse or a tap of a phone screen. Agents don't need to worry about sharing login details as each gets their own Dotloop sign in and users can easily toggle between agent profiles. This allows agents to collaborate more easily and keep deals moving while providing a consistent standard of customer service for the client.
Because each agent has their own Dotloop sign in, it's easy for managers to track their progress in real time, giving them the inside track when it comes to managing their team performance and adjusting their strategy to smash their targets and challenge their teams. Which brings us very neatly to...
Robust Reporting Tools
In an increasingly fast moving and competitive environment realtors and brokers need fast access to comprehensive yet easy to understand reporting tools which can inform their ongoing strategy. Through fast and agile reporting they can get a clear overview of their performance in line with their targets, as well as tracking everything from individual agent performance to identifying what's under contract. This allows management teams to provide support to agents who are behind on their targets while also keeping clients in the loop quickly and easily.
Easy And Seamless Integration
No matter how potentially useful a new digital tool may be, it's understandable that realtors may approach it with some apprehension. After all, with new software tends to come teething problems as well as downtime in training existing agents and onboarding new ones. The good news, however, is that Dotloop is designed to be quick and easy to integrate into real estate operations of all shapes and sizes. It's designed to fit in seamlessly with other platforms (including our own, of course) to offer a dashboard that gives you the robust functionality whenever you need it without needing to input details into one platform after another.
Easy integration allows you to outperform your competitors by getting the job done faster and more seamlessly, thereby building value in the eyes of your clients.
Training And Support When You Need It
With Dotloop training your agents can become proficient in how to use its suite of functions quickly and effectively. The Dotloop support team not only offer tech support when you need it the most they also offer robust Dotloop training to teams to help them to get the most out of the platform. This eases the pressure on management teams, allowing them to focus on the strategic management of their operations while the experienced professionals at Dotloop training set about equipping their agents with the knowledge and skills they need.
Fewer Delays And Less Frustration For Buyers And Sellers
Agents aren't the only ones who can get frustrated by tedious administration and the way in which bureaucracy can make transactions slower and needlessly complicated. What we said before about building value in your brand for clients? We all know that it's essential if you're to gain a competitive edge. And what's are the biggest threats to the value you bring to your clients? Is it the extent to which your administrative processes can slow things down, leading to client frustration? Is it when your client calls to ask you something but you can't access pertinent data quickly and easily and you have to call them back? Or is it when the standard of service they receive varies depending on which agent they deal with? Dotloop allows you to neatly avoid all of these common client frustrations by facilitating faster admin, giving all of your agents access to the information and documents they need when they need it and providing a seamless end to end experience that allows agents to be at their best and provide the wow factor their clients.
As we all know, happy clients means referrals. Which brings us to...
Increases Your Chances Of Referrals
Referrals are the lifeblood of real estate growth. When you're able to provide an outstanding service to a client, they'll keep you at the forefront of their mind and be more likely to recommend your firm to as friend should they want to sell their home or buy a new one. By helping your operation run smoothly and free of frustration both for you and the client, Dotloop can increase your odds of your clients referring you to their contacts thereby facilitating organic growth.
Making Compliance Easy
Realtors have a duty to their clients, as well as a duty to themselves to remain profitable, but they also have compliance duties which can make paperwork a much slower and more involved process. Thankfully Dotloop is geared towards making it easier and more intuitive for realtors to honor their commitment to real estate compliance.
Within the same system, administrators can simplify compliance by using automated workflows, audit trails and the ability to send or receive instant notifications that make the review process faster and ensuring compliance easier.
Trusted By Some Of The Biggest Names In Real Estate
We understand that all of our clients take a leap of faith when they adopt any new form of technological solution into their business operations. However, Dotloop has already earned the trust of some of the biggest names in real estate meaning that you can put your trust in Dotloop just as we have in integrating with them. The platform has been enthusiastically adopted by a wide range of real estate heavy hitters including;
Southeby's
Coldwell Banker
Keller Williams
Better Homes and Gardens
Metrobrokers
Century 21
Berkshire Hathaway and many, many more.
Plans And Pricing To Suit All Agents And Brokers
All businesses need to manage their overhead costs carefully and ensure that their investments are harmonious with their cash flow projections. The good news is that Dotloop has a range of flexible plans for realtors, teams and brokers starting at just $29 a month.
You only pay for the plan / functionality you need to endure that you get the very best value for money from the platform.
Get A Free 5 Minute Consultation Today!
Now you know a little more about Dotloop and why we've chosen to integrate with them, why not find out more about how your real estate company can benefit from using the platform. Click here for a free 5 minute consultation.
Millions of Voicemails Delivered Daily
We support sending ringless voicemail to more than 80 countries including
See for yourself why so many have embraced ringless voicemail!
There's no monthly fees, minimums, or commitment to get started.